Sport Business Chain has embarked on a mission to contribute to the development of the sport business sector in Eastern Europe by collaborating with sport organisations, sport leaders, entrepreneurs, academic institutions, policy-makers, sportspeople and students across multiple areas, including:
1. Strategic Business Development
2. Strategic Partnerships
3. Sponsorships
4. Technology
5. Academia
6. Community Involvement
7. Fan Engagement
8. Digital Marketing & Social Media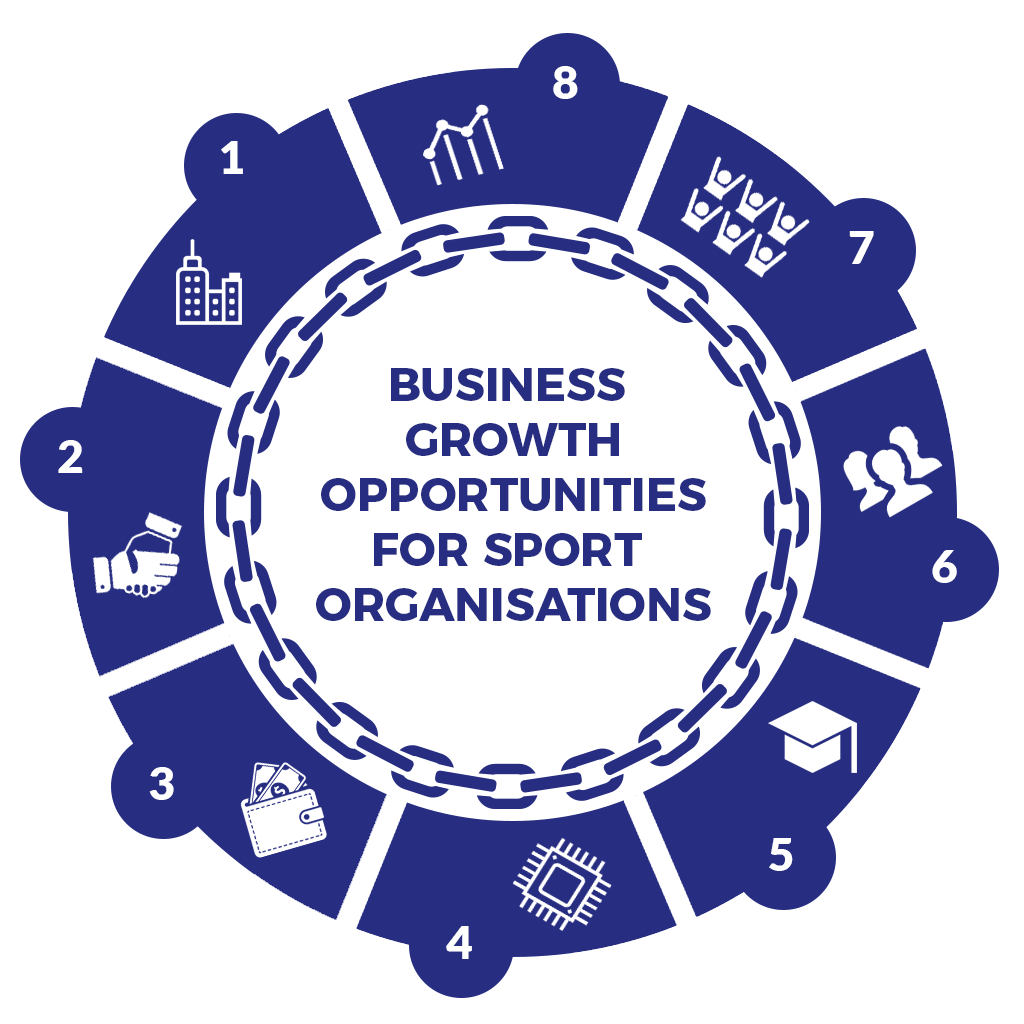 We are in the passion business. Sport is about passion. It goes beyond entertainment, inspiring belongingness, breaking down social and geographical barriers, and bonding generations. SBC delivers value to sport organisations by providing the context to meaningfully connect with partners and communities, as well as the opportunity to explore the hot trends and current industry insights.
We are in the excitement industry. Sport is about crafting memorable, thrilling moments that give goosebumps to the sport lover and last forever in the fans' hearts. SBC is also working against the clock to deliver the most exciting sport business conference in Eastern Europe for all sport business enthusiasts to get a solid grasp of the 'here and now' of the industry.
We are building a culture of caring. Giving back to the community is in our DNA, which is built on a three-pillar foundation. As a business opportunity, we support sport organisations across the private, public and volunteering sectors develop from within and grow. As an exciting employment industry for the younger generations, we open doors for them to garner invaluable experience through job opportunities, internships and volunteering roles. As a career shift opportunity, we support sportspeople define themselves beyond elite sport, and involve them in the wider sport ecosystem.
Become the Eastern European networking hub for businesses to develop long-lasting partnerships with sport-related entities across the public, private and volunteering sectors.
Provide the context for local and international businesses to meet and find opportunities of investing in sport and developing it.
Set the foundation for creating the first Romanian Sport Think Tank and act as an opinion leader on matters related to the business of sport.
Attract Romanian and Eastern European sportspeople as ambassadors of the Conference to help promote sport as a viable career option beyond the elite sport stage.
Stimulate the involvement of policy makers in sport and set the stage for the further implementation of educational schemes, such as internships, apprenticeships and placements.
Develop and train regional sport organisations via workshops, industry leaders' speeches, discussion panels and monetisation opportunities around digital marketing, social media, strategic partnerships and community involvement.
Empower the young workforce through sport by facilitating the finding of job opportunities, internships, volunteering roles and educational schemes.
Link sport organisations with young talent in search for career opportunities.
Develop partnerships with sport academic institutions to stimulate the flow of information between academia members, encourage student exchanges and mutually beneficial projects between entities.
Support sportspeople define themselves beyond elite sport, by positioning the sport sector as an appealing career path to contribute to.
Who can Sport Business Chain bring value to?
Middle and top management representatives of sport organisations
Sport professionals and influencers across the public, private and volunteering sectors, with expertise ranging from areas such as digital marketing, social media, sponsorship and partnerships, strategic business development, media and journalism, technology, events management, facility management, to education and policy making.
Sportspeople who are either approaching the end of their elite sport career, or are keen on developing their skills to get involved in the wider sport spectrum, from running a sport organisation to becoming a sport commentator.
Students and Young People
Students and young people who want to find out how their professional background could be utilised in the sport sector, how to build a career in the sport field, or who are thinking of pursuing sport-related academic degrees.
Academic entities offering sport-related programmes and courses that would like to expand their network, attract new students and develop new valuable partnerships across the Easter European region.
Sport Policy Representatives
Individuals, sport governing bodies and sport policy making representatives who have the power to develop and positively contribute to the development of sport.
Sport and non-sport related businesses with an interest in the sport sector and its stakeholders, willing to showcase their services and products across the three-day conference.
We're a bunch of Romanian go-getters passionate about sport and all its behind-the-scenes work, business excitement, community engagement and entertainment. Our 'why' is wrapped around opening doors of opportunities for the sport business professionals out there, across Eastern Europe.
We think collaboration is ridiculously undervalued, and sustainable results are fuelled by the active involvement of all players of the sport chain.
Teodora Busurca
I am a Sport Management graduate, who has held various roles across the digital marketing and sport ecommerce areas. Passionate believer in the power of empathy and open-mindedness, hell-bent on embracing the unconventional, and motivated by the opportunity of laying the groundwork for a regional sport business ecosystem to bounce ideas off and be a constant source of learning for me.
Cosmin Albu
I am a Sport Marketing & Management graduate, although an ardent advocate of informal education. Having worked in various roles from sales and business development to sport sponsorship, I have ended up accepting the challenge of the start-up scene. Passionate about human interaction, building fruitful relationships, seeking and creating opportunities for collaboration and networking.
SUBSCRIBE TO OUR NEWSLETTER
Be the first to find out who's taking the stage at Sport Business Chain conference and what updates and news we prepare for you.